SPECIAL CLASSROOM FOOD EXPERIENCES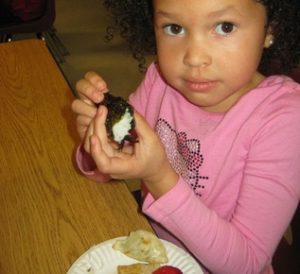 There will be occasions throughout the year when classroom or all-school celebrations include food.  These might take the form of sharing a child's culture, such as the day a kindergarten student's Korean grandmother brought in traditional Korean food for the children to taste.  It might be part of a child's sharing after visiting a foreign country or participating in a cultural event different from that of peers.  The intention is to expand awareness of various cultures through food.
---
FOOD AS PART OF THE CURRICULUM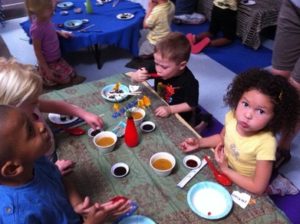 One year food was the focus of a preschool study in which children cooked and ate their way around the world.  Their geography references became recipes from India, Spain, and even the American South.  Many traditional foods were shared for snacks or cooked in class as part of the curriculum.
---
WHEN WE BREAK THE RULES
The Seed has a few events where we loosen the healthy foods requirements, particularly the Halloween carnival.  A highlight for many classes is decorating cakes for the cake walk, which always features a large supply of sprinkles and other sugary delights.  We have a fundraiser around Valentine's Day that includes a bake sale of sweet treats.  Additionally, the Seed holds a Thanksgiving feast and spring picnic, which includes a wide array of food, some prepared by each classroom and some by parents.
© MARY K GLOVER 2014